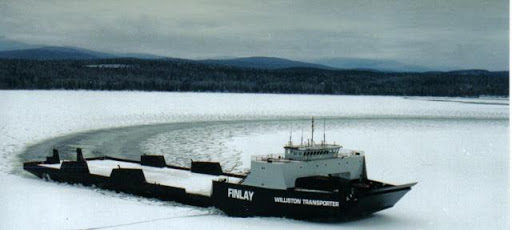 WaterBridge Steel Inc. is a ship building company based in British Columbia, Canada. The WaterBridge Steel team specializes in building vessels in remote sites, under difficult environmental conditions, and with limited access to industrial infrastructure. John Harding, President and owner, has over 25 years of ship building experience building numerous vessels for industry and government with his current company, WaterBridge Steel, and his previous company, Finlay Navigation.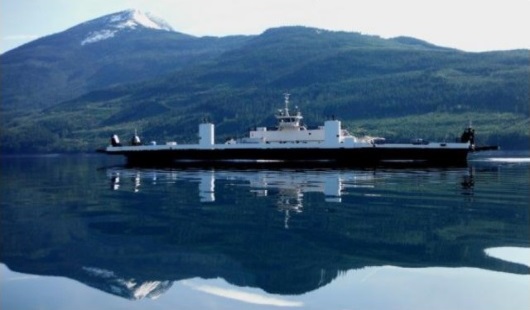 In June of 2012, WaterBridge Steel was awarded a contract by the Ministry of Transportation and Infrastructure to design and build and 80-car commercial ferry to run on the Shelter Bay to Galena Bay route on Arrow Lake in the Central Kootenays. The ferry replaced two existing smaller vessels that reached the end of their life-cycles.
The new vessel, the MV Columbia, is 320 feet long, 64 feet wide, and weighs approximately 2.5 million pounds (1100 Metric Tons).
The MV Columbia was designed and built over a period of approximately 24 months on the shores of Upper Arrow Lake in the picturesque village of Nakusp, BC. It was formally delivered to the Ministry of Transportation and Infrastructure and went into service on June 26, 2014.
WaterBridge Steel Inc has two sister companies, WaterBridge Equipment Inc and WaterBridge Ferries Inc, that operate inland ferry routes on behalf of the Ministry of Transportation and Infrastructure. WaterBridge Equipment Inc operates the
Francois Lake Ferry and WaterBridge Ferries Inc. operates the
Arrow Lake Ferries.
From 1976 - 2000, Finlay Navigation commenced operations in 1968 as a marine towing business operating tugs and barges on the man-made Williston Lake in north central British Columbia. It was a progressive, well-equipped, and profitable marine company. Following the purchase of the company by John Harding in 1976, the business grew steadily to include the design, construction, and operation of car and truck ferries serving customers on several interior lakes.
With the sale of Finlay Navigation Ltd in 2000, John Harding directed his talents toward solving the transportation problems identified by the Ministry of Transportation and Infrastructure at Francois Lake. The increasing logging volumes resulting from the mountain pine beetle infestation in the area were leading to delays and congestion on the government's existing ferry, the "Omineca Princess". Mr. Harding's solution was to build a larger ferry which would be designed, built, and operated by WaterBridge Equipment Inc. This suggestion led to the privatized service, and the construction of a new ferry, the "MV Francois Forester". WaterBridge Equipment Inc operated the Omineca Princess while the MV Francois Forester was being constructed.